The drone flute above is an example of
the use of exotic hardwoods. It is crafted
of purple heart and has custom birds
in the shape of hearts.
Below is a close up of a stylized
eagle bird. (The bird is also
sometimes referred to as the
totem, or fetish.)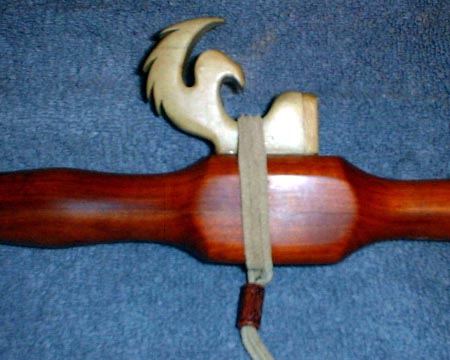 A carved bird such as this
typically would be about
$25.00 extra.

Above, the stylized eagle roosts atop
an exotic hardwood flute. This one
is redheart. The color is natural, no
stain used, only a clear finish.
Below is a naturally finished poplar six
hole flute. Very light color, sometimes
almost snow white, but also sometimes
carrying mineral streaks for a stunning
look. These can be made for as little
as $125.00.

Add a crescent moon, stylized eagle, horse head
or other custom bird to a simple poplar flute
for a truly cusom instrument.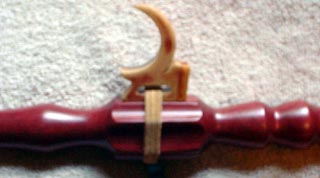 Above, the crescent moon sits atop a
one of a kind purple heart flute. Fancy
turning and carving made this one a beauty.
It is sold. Something similar can be yours
for $175.00 to $225.00.