The pictures here show a red cedar
5 hole flute in the key of E minor.
This is a wonderful choice for a first
flute as it has recessed, or grooved
finger holes. This feature makes
finger placement easy and accurate
so even a beginner may seal the holes
correctly with no air leaks.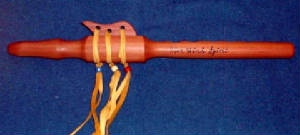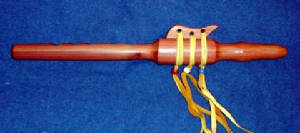 When crafted in select red cedar, these little
E minor flutes typically retail for $125.00.
Please get in touch to
offer comments about our site
or ask questions about our products.
Please click on the info@whitepathflutes link
below to e-mail us, or you are welcome to
call, fax or write. Thank you.
In case the link below does not work, our current e-mail is:
wefly04@yahoo.com


The next two pictures below are two
different style 5 hole bamboo flutes.
Just think, musical instruments made
of grass! That's what bamboo is, a
variety of grass. The bamboo for these
flutes is hand selected, air dried for
anywhere from a few weeks to several
months. When made into a flute it is
firehardened and polished. The bamboo
flutes are what is called "free tuned", meaning
they play an even and melodic scale, but are
not tuned to a specific key. They have a truly
wonderful sound and make a great first flute or
addition to a collection.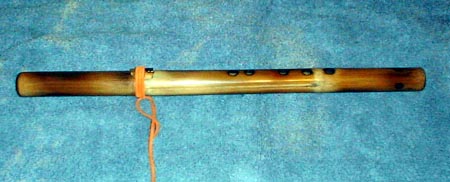 Our bamboo flutes are excellent for the
beginning Native American flute enthusiast.
Less expensive than the wood flutes but
still having the haunting sound the Native
American flute is known and loved for.
These flutes are available in a range of
sizes and coloration. They retail for
$75.00. These are clear toned, top quality musical instruments, not to be confused with childrens whistles.
Here is a beautiful example of Billy Whitefox creations.
The picture does not do justice to the beautiful
silver and turquoise wrist cuff "Buffalo Spirit".
Below that is a gorgeous necklace, "Bear Spirit", in
hand tooled copper.

The above picture shows a bamboo
didjeridoo between two wood flutes.
We have these available from time to
time depending on availability of material.
These start at around $45.00.
Here is an mp3 of Bamboo Prayer, a track from a self made CD I recorded in 2003.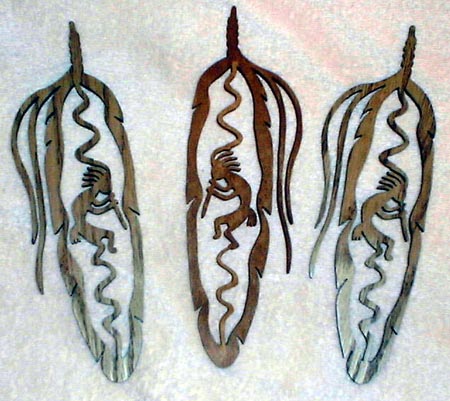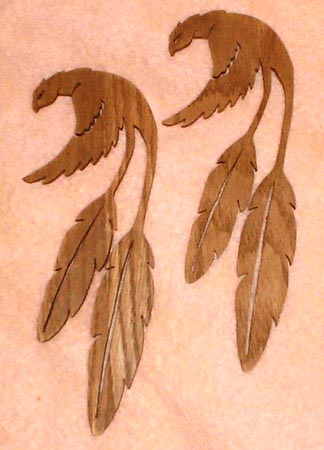 Whitepath Flutes also offers a
variety of southwestern style
fretwork art. More photos
and pricing on another page.
Whitepath Flutes
Crawfordville, FL
Phone (850) 556-0236

Whitepath Flutes, Crawfordville, FL